Love the way your website looks but struggling to integrate it with your MINDBODY scheduling system? No idea where to start with search engine optimization?
READY TO STOP FIDDLING WITH WIDGETS, CODE LINKS AND BUTTONS....AND JUST LAUNCH ALREADY? LET'S DO THIS!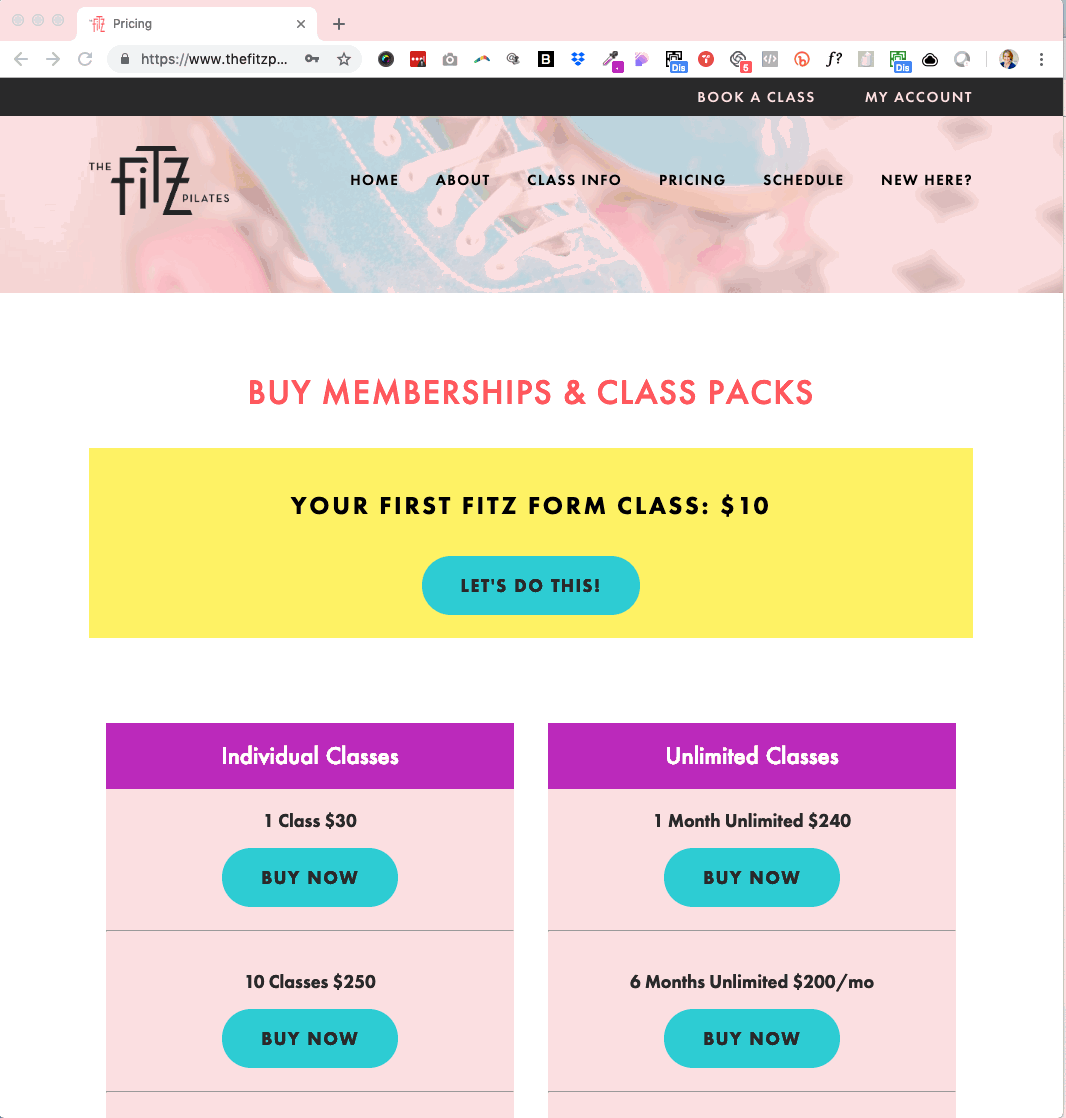 You need more than just a nice-looking website.
Squarespace templates are nice and you've probably managed to make a great-looking website for your studio (nice work!). BUT, a pretty design alone won't help people find your studio online. If clients can't easily book classes and buy packages - your studio might be in trouble.
By now you've probably realized that a template—no matter how nice— just won't guide you through making a website that:
Smoothly integrates your MINDBODY widgets and purchase links
Helps your clients easily book classes and buy packages

Sends the right signals to search engines like Google telling them who you are, what you offer and where you're located (and we all know Google needs to know these things!)
That's where I can help. I understand you've got a lot riding on this website.
You've done a great job so far getting your website built, now finish it off with the help of a pro who knows your business...
I'm an Authorized Squarespace Trainer and Certified MINDBODY Business Consultant.
I've helped dozens of studios like yours create beautiful, streamlined websites that offer visitors an easy way to become customers.
This package is a combination of my most requested add-on services - the ones you need to help clients find you, book classes, and buy packages. It provides the biggest impact value-wise for your studio, before or after you launch your website.


Here's how it works:
Step 1: We start with a kick-off call to review your website and go over my recommendations for improvement
Step 2: You relax while I...
Ensure your customers can navigate your website quickly and easily

Integrate your MINDBODY widgets and purchase links so that people can book online, just the way you wanted

Complete all keyword research and apply basic on-site Search Engine Optimization to your website

Create a customized Action Plan for you to improve your studio's search engine rankings further

Provide expert advice and troubleshooting any time you might need a little help
Just think: in as little as one week, your site can go from clunky and frustrating to streamlined and simple for your clients to use.
Investment: $1500
"Now our website looks and flows so well with our MINDBODY account "
"I was stuck and didn't know where to go. And you came in and saved the day. Now our website looks and flows so well with our MINDBODY account and I can move on to all the other things I need to do before our grand opening."
Jessica Tranchina
Generator Athlete Lab | Austin, TX

"Connie is our go-to for any MINDBODY or Squarespace question"
Connie has been such a wonderful resource and CH/LL team member. She's our go-to for any MINDBODY or Squarespace question, and she always responds thoughtfully, quickly and with insight.
Laura Sage
CHILL Chicago, Meditation & Massage Lounge
Finishing your website just got a lot easier
WITH A SQUARESPACE-MINDBODY BOOST, YOU CAN GROW YOUR BUSINESS CONFIDENTLY ON A SOLID DIGITAL FOUNDATION.
Small print:
This package does not include any branding or design improvements. You must be happy with the images, colors, fonts, basic page structure and layout of your website. If you're not, check out my full web design packages or ask about adding additional design work to your Boost package.
To be eligible for a Boost, you must have an existing Squarespace website (business plan or higher) and a MINDBODY account with Branded Web features. Not using MINDBODY? Contact me and let's chat about your system. I may still be able to help. Not using Squarespace? Sorry, this is a Squarespace-only service!